I have decided to take the plunge and host a party!
You are Invited!
Anything about the porch or garden
My first party is starting a little late,
start on Fridays each week.
Link to your post, not your blog.
Include a link back to the party.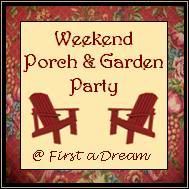 I know the party will be small at first.
In fact, I may have to link some of my posts at first,
just so it will have some links.
Please keep coming back...
the party will get better and better!
If you love porches and gardens, visit often.
I know you'll have a good time!